Email Your Requests

Past Guests:
(Just click to listen)

More Interviews HERE
CLASSIC MOMENTS CAUGHT ON CAMERA: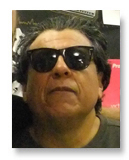 Insider - Yogi
The Breakfast Show's International Liason.
Yogi has traversed the world with everyone from Slayer and Weird Al Yankovich, to Natalie Cole. His tales from the road rival many-a good men, and the Slayer Gold Record in his name puts Yogi two steps ahead of the rest while remaining in a league of his own.
His calls from the road bring Yogala's experience to the listenership, whilst keeping the dirt under his fingernails very well documented.
From avid listener to essential ingredient... he da-man.

Welcome to The Rock n' Roll Breakfast Show




Your weekly rock n' roll exorcism hosted by The Reverend Donnie Black at Victoria, BC's only campus and community station broadcasting at 100,000,000 Watts on 101.9 FM CFUV.
Rock n' Roll Breakfast Show Online



Tune in HERE every Friday from 1-3PM PST. You will need one of two players; PC users:

FREE Winamp Player

& MAC users:

Audion Player

. It's a fairly simple process if you follow the instructions.

Listen to our final two episodes;
September 23rd 'The All KISS' episode HERE
September 30th 'The All VAN HALEN' episode HERE.

Sail the sands of time for blasts from Breakfast Shows past

HERE.



(During server maintenance our streaming audio may be offline. If that is the case please check back later!)
Breakfast News
Message from The Reverend
Saturday, October 1, 2016

If you missed yesterday's episode (September 30, 2016), you missed the last show with me flying the ship on Friday afternoons. I'm taking a hiatus from the airwaves to concentrate on getting my personal world upright. It's been a struggle for the better part of the last decade. With time (at what seems like) a bare minimum, my schedule has seemingly almost burst the bubble. So I gotta do what I gotta do.

The Rock n' Roll Breakfast Show has been weekly soul medicine, with rock n' roll music easing my many mental pangs. For me, music has been that way ever since I was a little kid. It helped me get lost in a world of fantasy for 3 minutes at a time, unless it was RUSH for a 9 minute epic. Even after all these years, I still air guitar the solo's and air drum the fills.

CFUV gave me a stage to share with like-minded individuals; great music and silly anecdotes. Plus I met Yogi, one of my greatest bro's over the airwaves at CFUV. Together he & I have managed to stay sober, and occasionally crutch each other when sh*t could've easily went sideways and led us down paths of total destruction and certain death.

So on that note; Thank you Yogi for being a weekly saviour. Thank you CFUV for being my weekly refuge. And thank you listeners for being a weekly audience... cuz it ain't no good without a f**king audience!



Yogi & The Rev pose with their good buddy bobble-head Zon Thor

Breakfast News
Photos From The Rev's Star Wars Wedding

The Rev has officiated a few wedding, but only once has he overseen a Star Wars theme wedding. This historical moment was captured on film; check it out HERE.
Make The Reverend your 'Friend' on Facebook!



Now you can confess your sins through Facebook by adding the Reverend to your friends list by clicking

HERE. We know that you check your Facebook more frequently than your email, so let us keep you up-to-date with what's what on the Breakfast Show.
Exorcising Your Rock n' Roll Demons Weekly
CAPTAIN BEYOND
'DAWN EXPLOSION'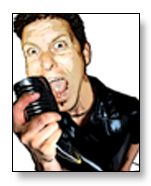 Host - Reverend Donnie Black
Donnie Black was converted to the Rock n' Roll faith at the tender age of five. Unofficially serving the Ministry of Rock n' Roll for over two decades, Donnie Black was officially ordained out of Modesto, California's ULC (Universal Life Church) April 15, 2004.
A gregarious, passionate and creative individual, the Archbishop Black brings excitement to every thing he touches. In fronting the band Zappninblack, the Reverend found his microphone a key element to having his personal maxim heard loud n' clear: "It is always better to be justified by Rock n' Roll than to be vindicated by man."
Always with an opinion and never flinching to contend for the faith, his greatest love is preaching The Word of Rock n' Roll in it's purity and simplicity.
Weather Man - Saint Pat
Irish marauders raided Pat's village at the age of 16, and he was sold into slavery. During his captivity he grew aware of thy Metal's presence, and became a defender of his faith. Upon escaping his confines, Pat is said to have illustrated the Trinity of Father, Son, and Holy Spirit by using a shamrock leaf or clover with its three strands. His mission has since lasted more than twenty years.
Pat has a cause, a passion, a purpose, and a destiny. He risked his life for thy Metal his savour. Subsequently, he retired as the Breakfast Show's weather man.
Hellion Emissary - Diabellous
Delagated from the darkside as charlatan to Mephistopheles, Diabellous is the Breakfast Show's nomad reporter challenging the norm and offering a twisted take on even the simplest things.
She usually buzzes the Breakfast Show when her clock strikes a nerve.